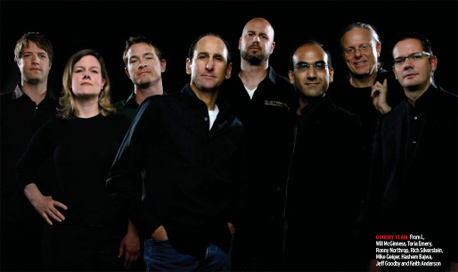 Hot San Francisco Shop Rides the Revolution
By Gavin O'Malley
Published: October 16, 2006
NEW YORK (AdAge.com) — Ask someone in the know about Goodby, Silverstein & Partners 18 months ago and you'd often see a sort of sad look come over their face as they explained that the shop was one of the greatest TV and print agencies of all time, but looked like it was getting left behind in this digital age. Ask them today and the story is much happier — Goodby, they will tell you, is back and better than before.
If you want evidence that the digital revolution has reached the San Fran shop, take a look at the work: Check out the cowabduction website for the California Milk Processors Board, or Goodby's use of interactive techniques to transform GM's Saturn car brand, or, if you haven't seen it yet, the e-mailable Comcast marionette. All make a great case that this shop is not what it was.
"A couple of years ago, there was a lot of introspection about what our involvement in interactive would be," says Jeff Goodby, co-chairman of the shop with Rich Silverstein. "We wanted to be more like the Crispin [Porter & Bogusky] and R/GA people."
How it got there
How to get there? Take away media-based silos and ramp up interactive resources — really ramp them up. In just a year, Goodby has gone from devoting 20% of its manpower and content investment in interactive work to spending about 60% in the area. And it changed how it operates.
"We've always been considered a conservative company," Mr. Silverstein says. "But a year ago, we made the decision to create a very different agency and to get rid of titles that restricted talent to a particular role."
With about 400 employees, Goodby is a modest-sized agency. "I credit our success and our ability to stay ahead of the curve with our nimble size," says Goodby Creative Director Will McGinness.
"We have the power to consider 'What would people want to sit with and experience?' and then go and create just that."
Comcast's transformation
Faced with increasing competition from satellite TV and telephone companies, cable operator Comcast set out this year to transform its image to an entertainment provider from that of a utility service.
Goodby brought that entertainment to the brand in droves with a hilarious send-up of the classic "$25,000 Pyramid" game show and the make-your-own marionette that was consumers e-mailed to each other.
"A big part of what makes Goodby Silverstein such a great partner is that they bring us bold and innovative ideas to reach consumers in interesting and unexpected ways," says Marvin Davis, senior VP-marketing for Comcast.
Mr. Davis says Goodby's work on its "Comcastic" campaign, including the microsites for "Comcastic," The Slowskys and Culture Fool, has "helped extend our brand by giving consumers new ways to further interact with our products and messages."
"The key is figuring out what part of the overall story should be told using different channels," says Hashem Bajwa, media planner and director of the Digital Lab at Goodby.
'Computer is personal'
The internet was essential to Hewlett-Packard's "The computer is personal again" campaign, which strove to surround consumers with the marketer's ode to individuality.
"You have to find the truth in the company," says Mr. Silverstein. "PCs are just a commodity business, but PC means personal computer. We're all walking around with these personal autobiographies." HP is putting tools online so consumers can create their own campaign ads.
Goodby's team is now working with Google to push the limits of online advertising.
For GM's Saturn brand, Goodby is testing experimental ads in six U.S. cities. Using Google Earth technology, consumers who click on seemingly normal banner ads for the Saturn Aura are surprised with a satellite view of the earth that rapidly zooms in on their hometown dealerships.
Like nearly every agency, Goodby has experimented with YouTube, with mixed results. Two short films that the agency made for Specialized Bicycles illustrate the agency's experience: one, a fake news report about a biker who outraces a police car, was viewed 82,000 times on YouTube; the other, a cartoon about a mountain biker who ignores a danger sign only to be clawed by a bear, gnawed by piranhas, struck by lightning and chopped by an ax, was seen less than 10,000 times.
The surprising cost of interactive
Goodby is also wrestling with marketers' unfamiliarity with interactive costs. "To grow this kind of [interactive] capability costs a lot of money," said Mr. Goodby. "When they see the hourlies [rates for interactive], they say, 'Wow.' "
"If you walk into an agency," adds Mr. Silverstein, "the person who's there at 7 a.m. or 2 a.m. is probably the internet guy. A lot of [our work] is being given away at the moment, but that's the price you pay for being ahead of the curve."
Alice Z. Cuneo contributed to this report.
Source: AdvertisingAge